Restaurant Hood Cleaning
Cleveland Ohio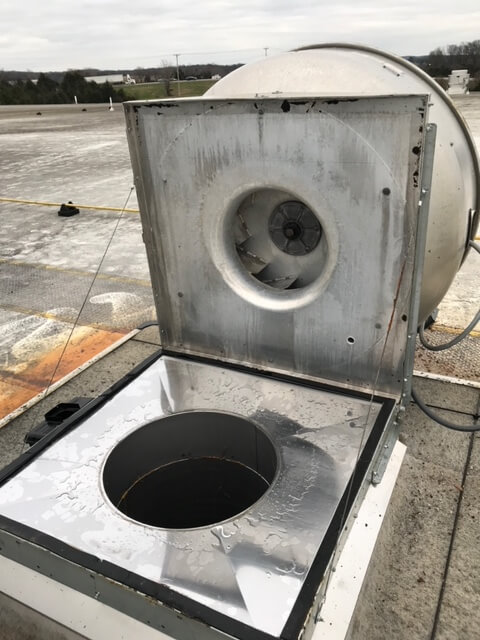 Why is restaurant hood cleaning so important?  Because grease can build up and cause an extreme fire danger.  This can pose a danger not only to your employees but your patrons as well.  A sudden flash fire could expose you to very expensive lawsuits and ultimately cause you to close your business.
Cleveland Hood Cleaning is here to help you.  We have trained, bonded, and certified professionals that specialize in restaurant hood cleaning.  Grease can be sneaky so it is best not to leave this particular cleaning to your staff.
First, we isolate the exhaust system so as not to damage your other kitchen equipment.  Using environmentally safe chemicals, our team will spray the areas that have grease attached to it then using either a pressure washer or garden hose we will safely remove the chemicals and grease with hot water.  We will then polish your exhaust hood so it will look like new.
There have been some cases that the grease built up is so bad, our professionals had to scrape the grease off first.  Don't let your exhaust hoods get this bad.  Not only is it unsightly it can be unhealthy.  Bacteria, mold, and pests can become a problem contaminating the food work surfaces.  This contamination can spread into the foods you serve and make your clients ill.  Nobody wants to face a client that has gotten food poisoning from their restaurant.
.Do you regularly see a health inspector?  Be prepared to see a health inspector between one and four-time per year.  Do you understand that there is more than one regulatory agency that enforces food codes?
Let's start with the FDA.  This is a government agency that oversees companies that package, produce, and transport food in the United States.  Their regulations are overseen and enforced by state and local agencies.  Those state and local agencies then have the authority to go into your restaurant or any food establishment and do an inspection.  If you do not have your commercial kitchen up to their specifications, you could lose points.  I know many people who look at the grade that is posted in a restaurant window and won't go to any place that receives anything less than an A.
Health inspectors may ask to see your certificate of restaurant hood cleaning or your restaurant cleaning.  They are looking to see you used a licensed and bonded commercial kitchen cleaning service.  They may deduct points if you say you rely on your staff.  While your staff may do the best job they can, they may miss some important areas.
At Cleveland Hood Cleaning we will take before and after pictures of your exhaust hood for your records.  We will also give you the certificate needed to show not only your health inspector but your insurance company as well.  Remember insurance companies base their rates on the risk they see with any company. Visit our ABOUT US page to know more about our company.
Contact Cleveland Hood Cleaning today for a professional restaurant hood cleaning.  We will schedule a time convenient for you to come out and give you an estimate.  We will then schedule and time to come out and clean your exhaust hood when your restaurant is closed.
We are licensed, bonded, and certified in restaurant hood cleaning in Cleveland, OH.