Commercial Kitchen Cleaning
Cleveland Ohio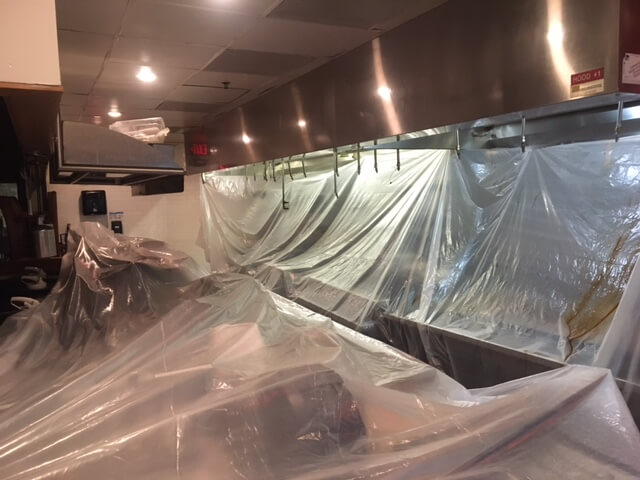 You have invested thousands in the remodeling and equipment of your new restaurant.  Now is not the time to skimp on commercial kitchen equipment cleaning.  You could leave the cleaning to your staff but many are not certified and understand what constitutes a full cleaning.
Grease is a sneaky thing that can creep into the nooks and crannies of your kitchen and equipment.  If left unattended, it can grow mold, bacteria and attract unwanted pests like rodents, crawling insects, and flying insects.  The last thing you need is one customer to encounter a pest and decide to give you a negative review online.
At Cleveland Hood Cleaning we have highly trained, bonded and certified restaurant cleaning services professionals that will clean your kitchen top to bottom.  They will first schedule a time to come out and inspect your kitchen.  No kitchen is built the same so it can be difficult to give you an estimate over the phone.  Then they will schedule a time to come and clean your restaurant at a time your kitchen is closed.  We understand you have specified business hours and want to be sure we work around your schedule. Visit our ABOUT page for more information.
Restaurant cleaning services typically include hood cleaning, cleaning behind, on top, and in between your kitchen equipment.  If the grease has no major build-up, we can easily use an environmentally safe chemical on the equipment and using either a garden hose or a pressure washer safely remove the grease with very hot water.
What type of restaurant cleaning services does Cleveland Hood Cleaning provide?  We will mop and sweep the floors (including dry storage areas or walk-ins).  Completely sanitize the metal surfaces and countertops.  Wash the walls, as we all know there can be gunk on the walls.  Of course, we degrease hoods and fans and clean out and replace any filters as needed.
We understand your floor is an investment as well so we make sure to use protective covering so there will be no staining.  After the cleaning is done, we will polish your equipment so it looks new.
Why is that important?  Well, first impressions are everything.  If you have a dirty kitchen and a patron can see it, they will not return.  The second is health inspections.  If you have unsanitary service and preparation areas, there could be a spreading of bacteria growth.  Any health inspector will tell you this can lead to losing points during an inspection.  A lot of people will not enter a restaurant that has anything less than an A+ rating.
How much will this cost you?  Well, not every commercial kitchen is built the same or has the same equipment.  Some restaurant cleaning services company will charge you by the square foot or by the hour.  They will also consider how many people will be needed to properly clean your kitchen.  Where are you located?  That is why we recommend calling our professionals to come out and do an on-site estimate so there are no surprises.
Contact us today for a free estimate.  We are licensed, bonded, and certified in restaurant cleaning services in Cleveland, OH.