Commercial Kitchen Cleaning
Cleveland Ohio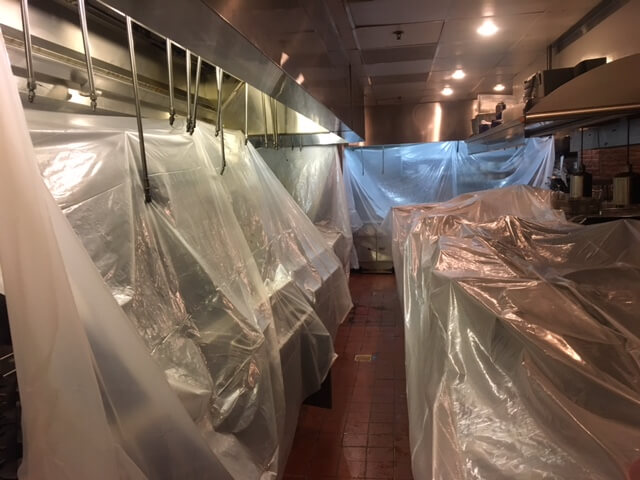 You have just opened your dream restaurant, spent thousands of dollars remodeling and buying new kitchen equipment now you need to find a highly rated company to maintain and do your exhaust hood cleaning.
Exhaust hood cleaning should not be done by employees only.  Our certified professionals at Cleveland Hood Cleaning Pros are highly skilled and trained to do the deepest exhaust hood cleaning in the area.  After a pressure washing, we will polish your stainless-steel hoods to make them look "just like new".
Using only environmentally safe degreasing agents and emulsifiers we use only commercial-grade equipment with steam applications and hot water to clean your hoods.  All the waste and water is contained to prevent staining of your floors and surrounding equipment.
At Cleveland Hood Cleaning Pros we can also do fan hinge kit installation and fan belt services.  During a commercial kitchen exhaust system cleaning, we will inspect the area to come up with a comprehensive grease containment system if we detect your restaurant could improve on it. There are several ways you can contain grease, fats, and oils.  Rooftop grease containment can come in the form of grease boxes, grease traps, grease catchers, and grease gutters.  Check with your state and federal laws to see what type of containment they recommend.
What happens if you don't do exhaust hood cleaning?  Fat, oils, and grease can build up on your rooftop.  This not only creates a fire hazard, but it can also cause damage to the structure of your building.  Did you know you are also liable for any polluted stormwater runoff?  The fines could put you out of business.
Contact us today for a free estimate.  Our professionals will schedule a time convenient for you to come out and examine your commercial kitchen.  We can give you an idea over the phone but not every kitchen is built the same so there may be extra expenses involved.  When we do come in to do a professional exhaust hood cleaning, we make sure it will be done when your restaurant is closed.  We understand you have a business to run and employees to pay and don't want you to experience any downtime or loss of income.
We certify every job we do so you can present it to your insurance company and the health inspector.  We will even do before and after pictures for your records.  That is why we recommend creating a routine scheduled cleaning.  This will not only keep the health inspectors at bay, but it could reduce your hazard insurance.
Our exhaust hood cleaning professionals at Cleveland Hood Cleaning Pros will leave your commercial kitchen looking brand new.  When we are done you will think you just ordered all new equipment (but you didn't and that saved you thousands of dollars). Visit our ABOUT page to learn more about our services.
We are licensed, bonded, and certified in exhaust hood cleaning in Cleveland, OH.