Commercial Kitchen Cleaning
Cleveland Ohio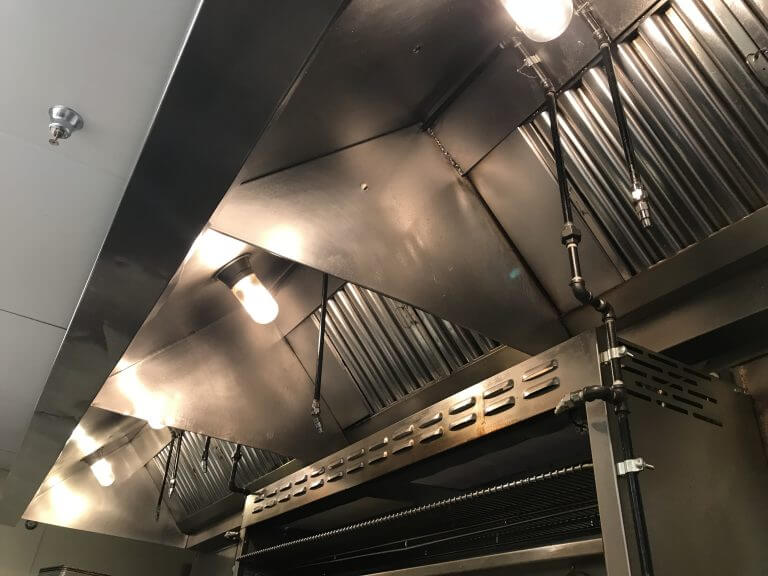 Do you have your kitchen exhaust system cleaning done on a regular basis?  If you don't have it cleaned and inspected on a regular basis, grease will eventually accumulate in your exhaust system and that can cause an extreme fire hazard.  Depending on the usage of your commercial kitchen you should schedule regular inspections and cleanings.
At Cleveland Hood Cleaning, we can inspect and have your kitchen exhaust system cleaning on a regular basis.  According to the National Fire Protection Association Code 96, the following is a recommended schedule of how often you should have your exhaust hood cleaned. Don't forget to visit our ABOUT US page to know more about our company and services.
If you have a system that serves solid fuel it should be done monthly.  Systems that serve high-volume cooking such as twenty-four-hour establishments or places that use a wok or charbroil should be cleaned quarterly.  Semi-annually is recommended for systems that do a moderate amount of cooking and annually for low-volume commercial kitchens.  This usually pertains to churches, senior citizen centers, seasonal businesses, or day camps.
Our team of professionals will determine if they can use chemicals to break down the grease or scrape the grease (usually done only when there is an extreme build-up).  Most of the time a kitchen exhaust system cleaning will only need to have chemicals sprayed on.  The environmentally safe chemicals used by Cleveland Hood Cleaning will be removed with hot water using a garden type sprayer or a pressure washer.  Don't worry about your floors as they will put down a protective cover to be sure there is no damage or stains to your floors.
After you have had your kitchen exhaust hood cleaning, our professionals will improve your hood's appearance by polishing and buffing out bad spots.  We can also take pictures for your records so you can prove to your insurance provider and health inspectors with proof you are staying on top of your kitchen equipment.  We will also give you a Certificate of Inspection you can hang in the kitchen for anybody to see.
Cleveland Hood Cleaners will service any type of commercial kitchens.  We have experience with food trucks, daycare centers, churches, senior living places, schools, fast food restaurants, camps.  Pretty much any type of commercial kitchen you can think of.
We do not just do kitchen exhaust system cleaning we can offer extensive services for your commercial kitchen - a few examples but not limited to:
Rooftop grease containment
Exhaust fan hinges installation
Commercial fire prevention
Commercial kitchen cleaning
Contact Cleveland Hood Cleaning today for a free estimate.  Our team will come to your restaurant and give you an assessment of what it will take to clean your commercial kitchen.  We can give you a general price over the phone but as you know, not all kitchens are built the same.  We will schedule a time to clean your restaurant when it is closed or during your least busy hours if you are a twenty-four-hour restaurant.
Our professionals are certified and bonded in kitchen exhaust system cleaning in Cleveland, OH.